(Dual languge post for importance of the topic )
While browsing i saw this
اليوم و انا اتصفح شفت الخبر التالي
From Alaan [Link][Arabic]
قال مدير عام المعهد الدبلوماسي في وزارة الخارجية السفير عبد العزيز الشارخ ان نتائج اختبار المتقدمين للعمل بالوزارة سيتم الاعلان عنها صباح غد الخميس عبر الموقع الالكتروني للوزارة على شبكة الانترنت www.mofa.gov.kw.
واضاف السفير الشارخ في تصريح لوكالة الانباء الكويتية (كونا) اليوم انه يمكن للمتقدم للعمل بالوزارة ان يعرف نتيجته بعد ان يقوم بادخال رقم بطاقته المدنية في المكان المخصص لذلك على الموقع المشار اليه اعلاه.
The General Manager of the Diplomatic institute in the Ministry of foreign affair said that the results of the Diplomats is going to be published online on the ministry website
So i wanted to check it, i go to Mofa Site
and click the link on the corner , and where it take me ?
طبا اكيد ابي اشوف شلون حاطينها ، بعد ما ضغطت علي الرابط بالزاويه وين وداني ؟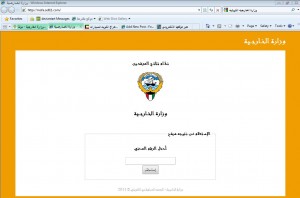 Wait a minute , what is this Sell11 ?
لحظه لحظه ! شنو هالموقع ؟
http://www.sell11.com/
ITS A CAR SELLING SITE , really Mofa , your diplomat information at a car selling site ?
حراج!!موقع حراج سيارات ؟
خلصت المواقع ياوزاره الخارجيه حاطين بيانات الدبلوماسيين علي الحراج ؟
This has only one , and one meaning , the guy who published it in the minsitry own the other site , and wanted the Traffic
هذا معناه شيء واحد ، الشخص الذي كلف بنشر المعلومات يملك موقع الحراج و اراد ان يرفع عدد زوار موقعه
What a Shame