So we have a new newspaper in kuwait
" ALKUWAITIAH  الكويتية "
Which may sound good and all , after all we are up to number 14 right now
But the guys who picked out the name clearly have not thought of the internet at all
Why you ask ? Very easy
Search for it name in google ,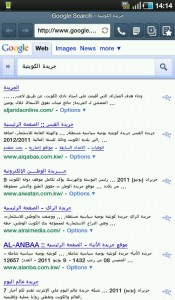 ah yes you are using a description ( the nationality ) as a name of your newspaper , if i search for
" جريده كويتيه "
name on google i'll get the others first , not them because they are all kuwaiti newspaper  !!
Brilliant as always